Thank you 
Jooki
 for sending us a Generation 2 unit to review! In 2016, the screen-free Jooki was successfully Kickstarted and shipped out the following year. The first model Jooki has won numerous awards and the design has been improved upon in the Gen 2 release. As requested by fans of the first Jooki, Spotify support has now been added to this revamped kid-friendly music player! We were sent the Jooki Player plus two tokens pack that is available online for $112.99. The next model up includes two tokens and five figurines and retails for $139.99. Finally, the eight token and five figurine model sells for $159.99. The tokens/figurines are how you switch out the different playlists whether they are stored on the device or through Spotify. With the 5GB of storage, you can upload numerous MP3s though the desktop or website application. While Spotify is nice, you'll have to have pre-loaded MP3s for offline music playing. Playlists can be tweaked using the phone, 
website
, or desktop app.
HardwareInfo:
Jooki Generation 2 Manufactired by: Jooki Release date: January 2021 MSRP: $112.99
Highlights:
Strong Points: Durable and screenless Bluetooth music player that supports Spoifty and MP3s Weak Points: Only supports 2.4GHz WI-Fi; some errors when bulk uploading MP3 tracks; no expandable storage
The first step in getting your Jooki setup is to charge it with the included USB-C cable. Once it's charged, you'll have to download the phone app to get your device online. The app will prompt you to scan the QR code on the bottom of the device. It will then scan your Wi-Fi networks and prompt you to which one to connect the Jooki to. Once connected, it will attempt to sync and update the device. It took several app and device restarts to get everything connected properly on my home network, but it connected right away on my work Wi-Fi. My router's QoS or Parental Controls may have been interfering with my home router and once we disabled those, the Jooki was able to be detected on our network without any issues. The Jooki only supports 2.4GHz WI-Fi so you'll have to have all of your devices connected to that band in order to configure your Jooki's playlists. Also, make sure that your Jooki is not connected to a guest network or an Access Point Isolated (AP Isolated) one. The device's design is pretty straightforward and works surprisingly well despite not having a screen. The power button has a heart on it and will be illumined as green, yellow, or red depending on the battery level. On a full charge you should get eight hours of music playing. The USB C cable can be used to recharge the Jooki from a computer or ac adapter (not included). In the center of the device is a square indentation for the tokens or figurines that load the configured playlists. On each side of the indentation are LEDs to indicate the WI-Fi connection status. When they are a whiteish blue, the device is online. The two orange knobs skip tracks and adjust the volume. There is a volume limit so you won't have to worry about your kids injuring their ears by playing their music too loud. At times the volume would be unusually low but adjusting the volume knob in either direction would fix that issue.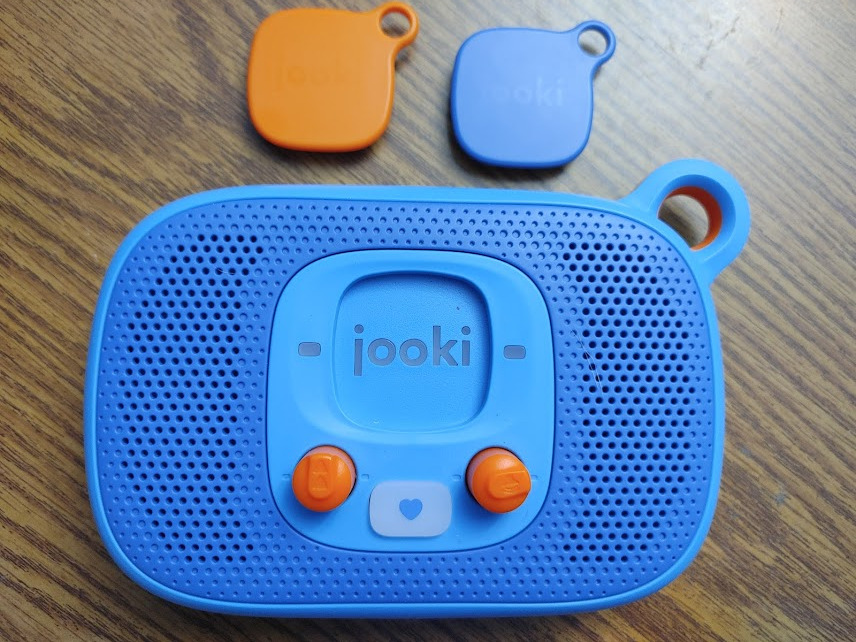 The Jooki comes pre-loaded with twenty-minutes of royalty-free music with half of it in a non-English language. From what I could understand the bundled songs were child-safe, though you'll probably want to swap most of them out ASAP. The default songs include: Energy - Pokki DJ With You - The Moose How Do You Like Me Now? Grace Mesa Spread Your Wings - Niki J Crawford Elle avait pas les yeux noirs - Lohstana David Se Ne Va - Millionaire Blonde Out of the default songs, With You was my favorite. Not only could I understand the lyrics, the beat is upbeat and catchy! Deleting the unwanted songs is pretty easy to do. I did notice failures when bulk uploading songs; trying again usually worked the second time around. While I did experience some hiccups in setting up this device, it works quite well once it's configured. The support team was very helpful and eager to assist me in getting this device online on my home network. The Jooki is a nice sounding Bluetooth speaker and even though my teenage daughter isn't in the target age range, she wants it now that I'm done reviewing it. Who wouldn't want a Bluetooth speaker pre-loaded with good music?   by Cheryl Gress